What kind of Toyota? Pickup, it doesn't have a name. Its been about 10 years since I had my first unnamed Toyota truck. I absolutely loved that truck. Fast forward, I live in one of the least rusty vehicle areas in the country, and I traded my postal for one a few weeks ago. Its sort of a hooptie requiring some minor work, however ZERO rust. None, not at all. Awesome.
It has some cool parts on it. Someone put the factory turbo stuff on it without running a waste gate. "It runs 20 psi" I was told. It has dual transfer cases, fuck yes. Solid axle swap for the front, excellent. It was apparently overheated at some point and fixed the week before I got it. Apparently it has a hotter cam in it now. Head was shaved, head gasket, head clean, arp studs whatever whatever. What I wasn't told was that the waste gate wasn't hooked up, didn't have the proper ecu or any sort of fueling upgrades (as far as I can tell as of now), no rear shocks, and a host of other things. I'm sure with more to come. Tires are 35" bfg mt km1's with like new tread. Survivor tires I'd love to sell to someone that lives for these beasts, and they do work good.
So far I've fixed the cts plug, pulled a couple leafs out of the massive lift leafs, put 4 bilstein shocks on it, trimmed (though not enough) the fenders and front bumper to clear tires, probably a few other things too.
Today I decided to attempt to wheel it at Browns Camp. I thought it would overheat and I'd run into a bunch of issues. To my pleasant surprise that didn't happen! What did happen was the front drive shaft came loose. When I heard it I quickly stopped and looked. I had one loose nut/bolt combo and one bolt minus nut left. In the bed I found two nuts, one obviously too big and one possibly correctly sized. Bingo, the small one worked. Two driveshaft bolts in the front, needless to say I went for it. I was careful, but I went for it. Just hit a couple intermediate trails to shake down the truck and see how it handles itself. It burns oil on deceleration, rubs tires on cab corners and bed fender cut outs, fights to start up a little, idles rough until warm still, needs a drivers bucket seat so the rear tcase shifter can be used freely, and a number of other things addressed. I trimmed the fenders before leaving today, apparently not enough however.
It was fun, I can't wait to work on this and get it ready for more wheeling and explore Browns Camp.
This is after I lowered it some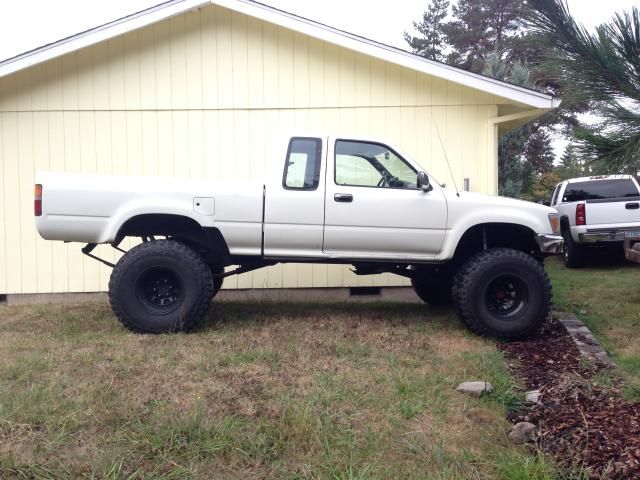 poser shot and to check clearances at home
I trimmed this down this morning, apparently not enough because the tires clearanced it more today
This will work, not ideal angles. It felt ok today.
I need to lengthen the f150 towers or move to hoops. Needs 2" more up travel. Shock bottoms out before I want it to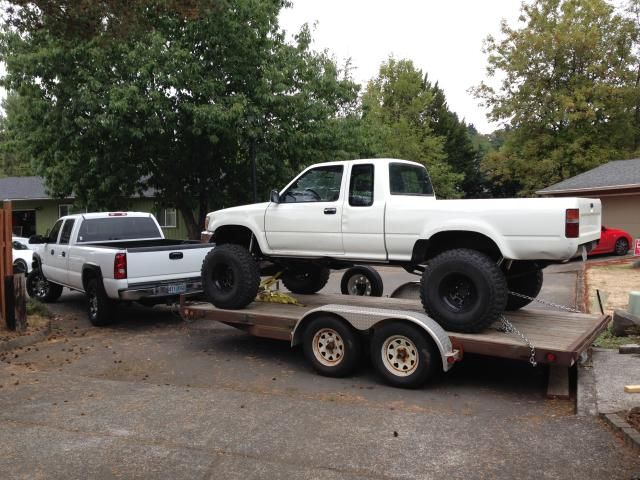 only real issue today