When the little 1.6 in my old Celica popped a month or so ago, knowing that I had a lot of good suspension and brake parts in it, I looked for a cheap Celica fixer-upper to replace it. And sure enough, a '91 GT 5-speed, Convertible (a lot of bullet points in both the "pro" and "con" lists there....) was on craigslist in Grand Marais.
Guy bought it just last spring, and wandered off the road (I suspect into a median/curb) and absolutely destroyed everything in the driver's front wheel well. He brought it to a "mechanic" who must have quoted him several thousand dollars to repair, so the guy signed it over to the "mechanic" who then listed it for sale. Long story short, I never actually talked to the guy who owned it, and the "mechanic" didn't know much about the car other than the damage to the front corner. 
So, I rented a tow dolly, and hitched up the minivan: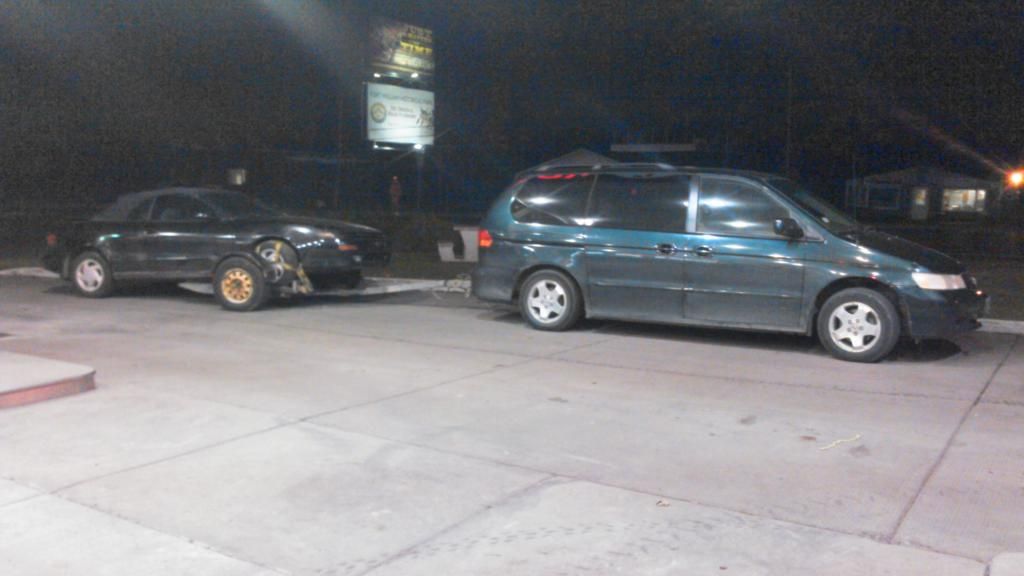 I actually ordered a junkyard control arm from ebay, and some poly bushings for it, before I even picked up the car. So, I had a bunch of good-condition parts from the '92, as well as a bunch of new parts from work (inner and outer tie rod, rack boot, ball joint, cv axle), ready to install when the car arrived. 
Old v New control arms:
Less than 24 hours after picking up that busted up car:
And....most of my collection of japanese 2-doors (Would have been better if the Brat could have made an appearance)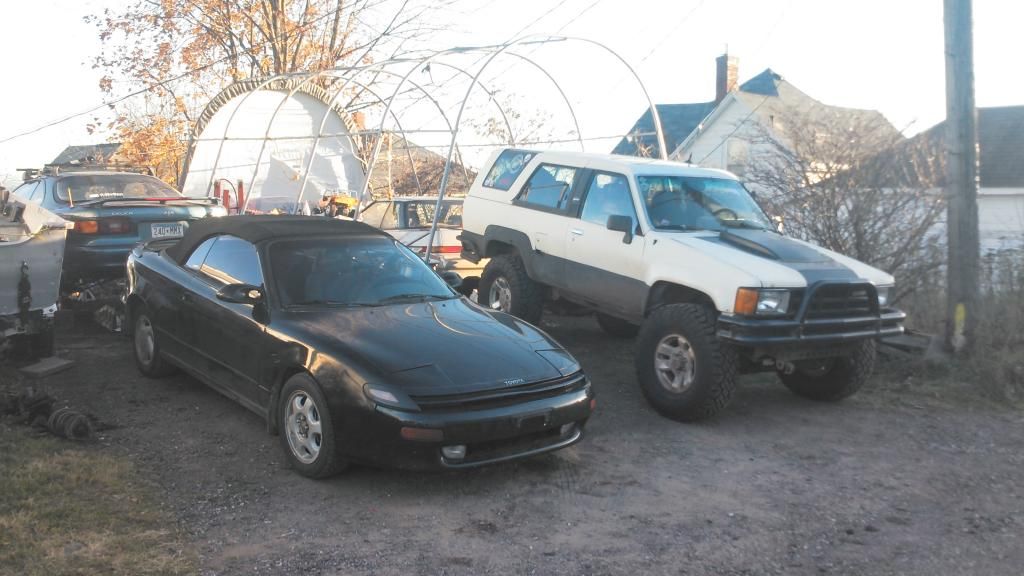 Those pictures were taken a few weeks ago. Since then, I've swapped over the rear suspension/brakes (GR2s, coilover sleeves, stiffer springs, disc brakes, poly bushings, 15mm spacers so I can run Subaru wheels), gotten an alignment, and put those big Blizzak Revo1s on it. It drives fantastic, still has a few issues, but nothing I can't deal with. I've got about $1500 invested into this chassis (not counting the parts off the old car....), so I'm pretty happy with it. 155k miles, almost no rust (I suspect it was someones summer/weekend toy for much of it's life). The top will probably need replacing in the next couple years, but it's not too bad. Doesn't leak, and it doesn't seem much colder than the hardtop...